About this site: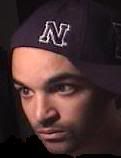 1. I added a new spam filter where you have to answer a question.
Shoot me an email dellgines@yahoo.com if there are bugs.
When you type in the answer to the question what color is orange after your first post, the next post you post you will have to click the (CHANGE YOUR INFORMATION) under the leave a comment statement above the post.
I haven't figure a way around this yet but I am working on it.
If your post are getting screwed please let me know right away. Thanks.
Hopefully we can get the board back to how it used to be.
2. This site IS NOT about being nice, being politically correct, nor making friends. It is about having a position, and opinion, a perspective or a way of viewing the world that you feel is important for others to know or for others to consider. People MAY dog you out. Don't be sensitive.
3. The only things I CENSOR are comments above the PG-13 level and spam.
4. I ENCOURAGE guest bloggers as long as their post are well thought out and add to the overall dialogue of the board.
5. DISAGREEMENT AND DEBATE IS EXPECTED if you can handle that don't bother.
About me:
I am from Omaha, Nebraska, home of the Cornhuskers. The rest can be seen at www.urbanceed.org